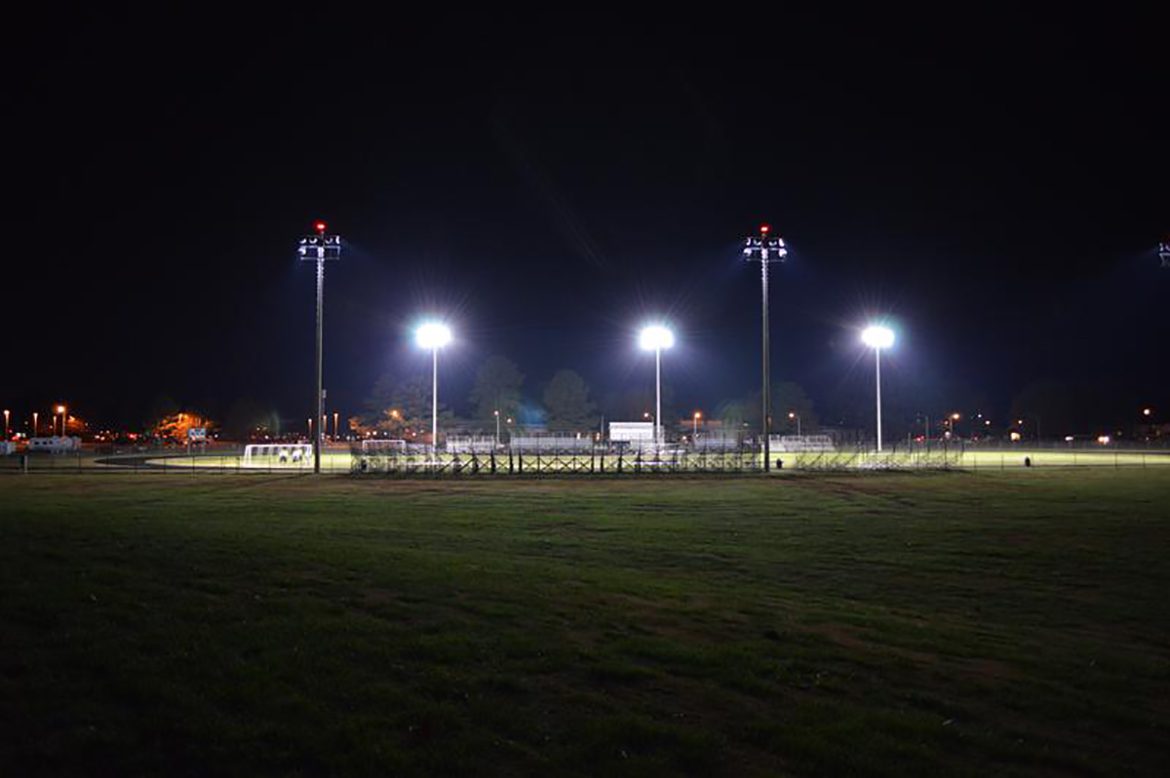 Sep
05
Sports Lighting Retrofit Transforms Army's Murphy Field
September 5, 2016
0 Comment(s)
A sports lighting retrofit was in order for the U.S. Army's Murphy Athletic Field at Fort Eustis, Virginia, a sports field that plays many roles – from parade ground to general purpose athletic field.
Established in 1918, Fort Eustis, in Newport News, is under the U.S. Army Training and Doctrine Command. In 2010, it was combined with nearby Langley Air Force Base to form Joint Base Langley.
In 2014 the Army commissioned a project to upgrade the exterior lighting at Murphy Field from outdated HID light fixtures to a Sports Sentry Lighting (SSL) LED stadium lighting system.
The Army had two major objectives: Reduce glare and enhance the playability of the field at night with outdoor lighting.
"Sentry Sports Lighting's LED stadium lighting fixtures are inherently less glary than others in the sports lighting market place," said Sentry Sports Lighting Project Manager Kathy Bates. "The glare source on an HID fixture is the arc tube on the lamp (commonly referred to as a bulb). LED light fixtures have no arc tubes. Our LED light fixture is a series of modules placed inside a round reflector on an engineered plate," she said.
Bates said another factor in reducing glare is an adjacent helicopter training pad. The Army did not want its training pilots to have to deal with glare from the nearby sports field lighting.
The Sentry Sports Lighting sports lighting retrofit also addressed the issue of night playability at Murphy Field. In addition to intramural sports, Murphy Field is used day and night for physical training and conditioning, including obstacle courses for cadets.
"The playability of the athletic field was increased by over 45 percent," said Bates. "The Army was getting about 15 foot-candles on the playing field, which isn't the standard for recreational play on an intramural field. Now, with the Sentry Sports Lighting LED light fixtures, they're getting about 28 foot-candles. This is enough foot-candles to play intramural sports with limited spectators," she added.
Bates said other big gains for the Army are energy savings and reduced maintenance.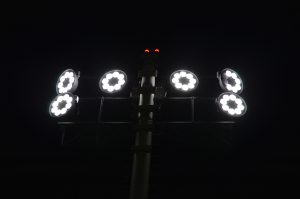 "Energy savings is the biggest advantage. The Army is probably saving upwards of 45 percent on their kW consumption which translates into a lower power bill," she said. "Then there is the maintenance. With an HID system, a contractor or facility person would have to constantly go up the pole to change out lamps, ballasts or capacitors. The LED modules have no lamps and have a longevity prediction of 70,000 hours."
Another factor for Sentry Sports Lighting was the Army's intent to re-use six existing light poles and cross arms.
"Our competitor proposed 64 (2 to 1) fixtures with an average of 20-foot candles. We proposed 32 (1 to 1) fixtures with an average of 28-foot candles. We met the Army's requirement to replace the HID light fixtures with LED light fixtures on a one-to-one basis and keep the same EPA loading," she said.
Using the existing light poles and cross arms avoided additional processing and saved more than $40,000 in material costs.
Bates said the Army is happy with the light levels produced by the sports lighting retrofit, as well as the uniformities and minimal off-site spill and glare.
That endorsement was echoed by Steve Murabito with Power Solutions, the installer on the project.
"The old sports lighting system was very antiquated. The Army has been upgrading lighting fixtures inside buildings for several years but this was the first outdoor sports lighting project," said Murabito. "They love the quality of LED stadium lighting and the coverage. It was a good project, it turned out very well," he added.
At a military installation that has been everything from an artillery training ground to a WPA work camp, Fort Eustis' Murphy Field is now more suited to the modern Army it serves – night or day.